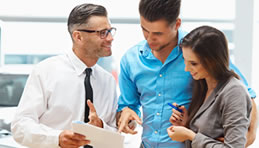 Step 2
Get your written offer
To provide you an honest and fair offer, our appraisers here at Noosa Hyundai thoroughly inspect the condition of your car and compare it against current market data.
How we determine your offer
Your offer begins with our expertise. Any dealer can estimate used car values, but few have appraisers who:
Undergo special training
Average 5 years on the job
Average 1,000 vehicles appraised
Our car appraisers will put your car through a detailed evaluation. The appraisal can take as little as 30 minutes and includes:
A test drive
A thorough inspection that takes into account Year, kilometres, make and model, Condition inside and out, Aftermarket parts and/or modifications, Options and features, Frame or flood damage.
checking your vehicle's history report
comparing your vehicle against current market conditions, such as national sales trends and auction data
After all of the information has been analysed, you'll be presented with a free written offer good for seven (7) days.
It's fast, free, and there's no obligation.